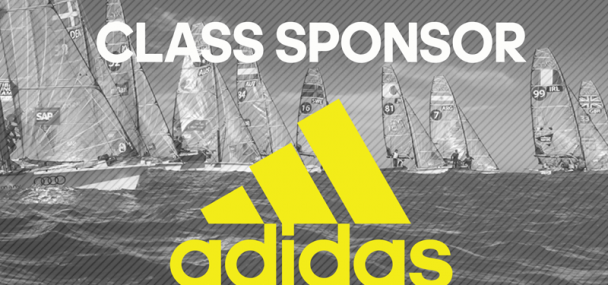 Adidas Sailing Partners with International 49er, 49erFX and Nacra 17
Riga, Latvia 12th June, 2017 – Adidas Sailing – Marine Clothing, Apparel, Accessories and footwear manufacturer, has entered into a partnership agreement with the International 49er and International Nacra 17 Class Associations, representing Olympic 49er, 49erFX, and Nacra 17 sailing.
The agreement will see Adidas Sailing appointed as exclusive partner in the category of Clothing, Apparel, Accessories, Luggage and Footwear supporting the International 49er and Nacra 17 Class Associations by not only providing a dedicated range of clothing and equipment for Class Association staff and appointed event personnel, but also by sponsoring the televised media output from all class-specific events, presented via the 'Adidas Sailing Daily Show'.
An additional benefit of this partnership is that the International 49er and Nacra 17 Class
Associations will be able to provide members and team supporters with access to a dedicated online retail store that will feature both a selection of customised 'Team wear' clothing featuring branding that highlights selected national teams and individual sailors, as well as access to a wide range of customised Adidas Sailing clothing and apparel featuring designs that include 49er, 49er FX and Nacra 17 branding. Class Association members and supporters will be able to benefit from special price offers discounted of the listed retail price on all purchases made through the 49er / Nacra 17 online store http://olympic-classes.catamaransports.com.
Adidas Sailing CEO Peter Baker said of the partnership: "Ever since Adidas was founded in the late 1940's, athletes have always been an integral part of the development of its products. One of the many credos that founder Adi Dassler stood by all those years ago, remains true to this day; 'If you produce good equipment and the right athletes help you to promote it, people will buy it.'
With this in mind, we have tried to embody that very way of thinking and have chosen to develop the 49er and Nacra 17 Class Association partnership as it offers for us the opportunity to work with those sailors who represent the very essence of what being an athlete in our sport is all about. For us, there is currently no better example of what 'performance' sailing looks like to aspirant sailors wishing one day to become Olympic Champions than with the 49er and Nacra 17 classes of equipment. Not only will Adidas Sailing benefit immensely from the feedback that we will receive from sailors as far as on-going development of our range is concerned, but we will be looking to support the International 49er and Nacra 17 Class Associations in growing the exposure of the competitions that they are responsible for delivering, by building on the work that they have already started in growing the scope and content of media output from these events.
For me, it is crucial that sailing at all levels is seen as a professional sport and the media output from regattas and competitions, if effectively packaged, is key to growing and retaining the audience that ultimately benefits from this work. I very much look forward to working with not only the 49er and Nacra Class Associations but also with the many team leaders, coaches, sailors and event volunteers who we will come to know through this exciting partnership. "
Commenting on the partnership with Adidas Sailing, 49er and Nacra 17 Class President, Marcus Spillane said: ""We are delighted to partner with Adidas Sailing which provides our members exceptional access to this global sports brand. Adidas Sailing products are among the best and have always been popular amongst our members. Being able to offer the best technical apparel and accessories with customisable options at attractive price points is of significant value. We look forward to promoting the brand and building a strong relationship with Adidas Sailing."
To order custom branded products, please visit http://olympic-classes.catamaransports.com
For information on the complete Adidas Sailing range: https://www.adidassailing.com
For information on the International 49er Class Association: http://49er.org
For information on the International Nacra 17 Class Association: http://www.nacra17.org
To keep up to date with the latest news from both the Adidas Sailing and the International 49er / Nacra 17 Class Associations , visit the dedicated social media channels listed below:
Facebook:
– www.facebook.com/adidassailing
– www.facebook.com/49ersailing
– www.facebook.com/Nacra17sailing
Instagram:
– www.instagram.com/adidas_sailing
– Hashtags: #adidassailing / #jointhecrew / #gearofchampions
– https://www.instagram.com/49ersailing/
– Hashtags: #49ersailing / #49erfxsailing / #49erfx
– www.instagram.com/nacra17sailing
– Hashtags: #nacra17sailing / #nacra17
Twitter:
– https://twitter.com/adidasSailing
– Hashtags: #adidassailing / #jointhecrew / #gearofchampions
– https://twitter.com/49erSailing
– Hashtags: #49ersailing / #49erfxsailing / #49erfx
– https://twitter.com/nacra17class
– #nacra17sailing / #nacra17
For further information on how your organisation could benefit from partnering with Adidas Sailing, contact our Partnership Program Team:
info@catamaransports.com