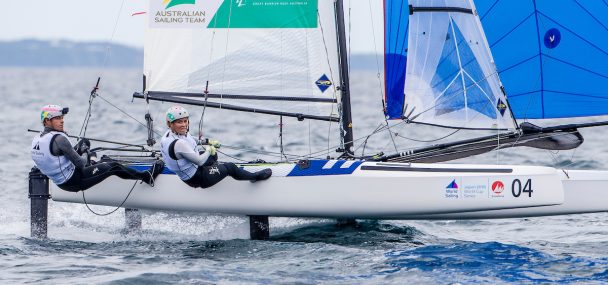 Geelong welcomes Olympic sailors for 49er, 49erFX and Nacra 17 World Championships in 2020
Three of the highest profile Olympic sailing classes will converge on Geelong in February 2020, with the 2020 49er, 49erFX & Nacra 17 World Championships set to be hosted by the Royal Geelong Yacht Club on the beautiful flat waters of Corio Bay.
With the 2020 Olympics in Tokyo, Australia is the perfect location for these elite sailors to compete in the 2020 World Championship and make their final preparations before heading to Japan.
The event, which will be held at the Royal Geelong Yacht Club from February 8 – February 16 February 2020, traditionally attracts in excess of 400 participants.
Rio Olympics silver medallist and London Olympics gold medallist in the 49er class Nathan Outteridge is looking forward to competing on the waters of Corio Bay.
"It has super flat water, really good winds and the Royal Geelong Yacht Club is great host, so the 49er event in 2020 is going to be fantastic. For the type of boats we are sailing in this event, it will be a perfect venue." said Outteridge
49er Sailors Will and Sam Phillips home is on the other side of the bay and know the area well – "the city of Geelong embraces big events, they have the Festival of Sails, the Geelong Cats football team – the town has a superb sporting environment," said Phillips
With the Geelong Waterfront Safe Harbour Precinct (GWSHP) Project currently in masterplan phase with construction set to commence in 2019, the Royal Geelong Yacht Club looks forward to showcasing its new facilities to the world in 2020.
"It is such an exciting time in Geelong for sailing," said Commodore John Kint. "With the GWSHP project underway, two world championships in 2020 plus our annual Festival of Sails and biennial Wooden Boat Festival, it really will be a huge year on the water for the Royal Geelong Yacht Club."
"We look forward to welcoming our international competitors to experience the perfect sailing conditions of Corio Bay."
Event Chairperson and Royal Geelong Yacht Club Board Member Chris Manton – "We look forward to introducing the amazing waters of Corio Bay, and show the World the perfect sailing conditions for the 49er and Nacra 17 classes. We have recently run a number of high performance sailing events including Moths and Superfoilers to the delight of all sailors"
Visit Victoria and the City of Greater Geelong have offered significant assistance for the event. Minister for Tourism and Major Events John Eren joined Member for Geelong Christine Couzens for the announcement "The 2020 Summer of Sailing will bring thousands of sailing fans to regional Victoria, keeping our bars and restaurants full, boosting our visitor economy and creating jobs."
"The 2020 Summer of Sailing is yet another reason why Victoria continues to be recognised as the sports capital of Australia."
The 2019 World Championship will take place in New Zealand in December 2019, and it is expected that the competitors will begin arriving in Geelong from January 2020, directly from New Zealand.
Once in Australia, from mid-January 2020, there will be three major Sailing regattas including Sail Melbourne International (Jan 17-21), the 2020 Oceania Championships (Jan 30 – February 3) and the World Championships (February 11 – 16) which is also the critical Olympic continental qualifier event for Oceania, North and South America for the 2020 Tokyo Olympics[u1] 
The 49er/49erFX/Nacra 17 World Championships will be the fourth world title hosted by the Royal Geelong Yacht Club in seven years and will be closely followed by the Laser Masters World Championships in March 2020.
"Australia is the home of global skiff sailing. As a class, we have been to Australia three times previously, and each time it's been a wonderful reminder of how great the sailing is down under. Our fleet can't wait to get down to Geelong, and personally, I'm looking forward to it tremendously," said class president, Marcus Spillane.
For more information, please contact Royal Geelong Yacht Club Operations Manager – Peter Kirman on +61 5229 3705 or peterk@rgyc.com.au or Classes Manager, Ben Remocker, 9erinc@49er.org.
Here are the links for the championships and more details: http://49er.org/event/2020-world-championship/ & http://nacra17.org/events/2020-world-championship/
Our Partners