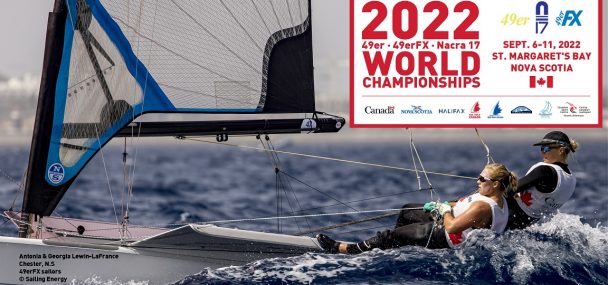 Nova Scotia to host 2022 49er, 49erFX, and Nacra 17 World Sailing Championships
HALIFAX, N.S., April 8, 2021 – Nova Scotia will host a 400-strong field of the world's best sailors from over 35 countries when the World Championships for three Olympic classes, the 49er, 49erFX and Nacra 17, kick off in September 2022. Taking place in Canada for the first time in its history, the competition will be held on St. Margaret's Bay during the six-day event.
Sail Nova Scotia won the rights to host the 2022 49er, 49erFX and Nacra 17 World Championships, which will run August 31 – September 5, 2022, in partnership with Hubbards Sailing Club, St. Margaret Sailing Club and Sail Canada.
Building on Nova Scotia's long-held affinity and connection to the sea, the province is gaining a reputation in the sailing world as an accomplished host of national and international sailing events. The event will be held on the waters of St. Margaret's Bay, which has played host to numerous national and international sailing events over the years. These waters make an excellent venue for the championship. The venue has clean water and moderate to strong consistent winds in a spectacularly beautiful setting.
More information about the championships is available on the class website at https://49er.org/event/2022-world-championship.

Quotes
Eric Hill, President of Sail Nova Scotia
"Nova Scotia has a long history of high-performance racing and training. St. Margaret's Bay is one of the best sailing venues in Canada and is known for having great winds and ideal sailing conditions. This event will bring awareness across Nova Scotia to skiff and Nacra sailing and also leave a wonderful legacy of improved infrastructure for sailors."

Iain Rankin, Premier of Nova Scotia
"We appreciate the confidence the 49er Class Association has shown in selecting our province to host and we know our sailing community will deliver an event that far exceeds the hosting requirements," said Premier Iain Rankin. "Events deliver important economic and social contributions to communities, and that's why we're pleased to invest $250,000 towards the hosting of this major event."
Andy Fillmore, Member of Parliament for Halifax
"Nova Scotians know sailing, and together with our famed Atlantic Canadian hospitality, we're the perfect hosts to welcome the world to our storied shores in September 2022 for the 49er, 49erFX and Nacra 17 World Sailing Championships. We look forward to making sure it's an experience that the sailors, their families, and observers will remember forever."
Mike Savage, Mayor of Halifax
"We're excited to welcome the world's best sailors and the 49er Class Association to our great city for this world-class event. Our city, volunteers and our hospitality industry will be thrilled to host the athletes, coaches and officials from around the world and help make their experience in Halifax one to remember."
Hugh McGugan, Sail Canada's Chair of the Board of Directors
"Canada is very excited to host for the very first time the 49er, 49erFX, and Nacra 17 World Championships in September 2022. This will be the first World Sailing Olympic class World Championships event to be held in Canada since 2015. Thank you to all the partners who are making this possible, including the Government of Canada and Government of Nova Scotia, as well as Sail Nova Scotia, Hubbards Sailing Club and St. Margaret Sailing Club. Following the rich tradition of Canadian Sailing Olympians coming from Nova Scotia, I'm sure sailing fans from Nova Scotia and across the country will be excited to welcome the best sailors in the world while supporting our Canadian athletes, including those who are aiming to compete in the 2024 Olympic Games."
Jyrki Jarvi, President of the 49er Class
"We are thrilled to be coming to Nova Scotia for our 2022 Worlds. It is a place that has sailing in its history and its future, and we can't wait to be a part of that."
Nathan Outteridge, President of the Nacra 17 Class
"The sailing on St. Margaret's Bay is perfect for Olympic style racing, it will be a great test for our fleets."
John Flemming, Co-Chair of the Local Host Organizing Committee
"We can't wait to show these competitors the remarkable St. Margaret's Bay. We know our sailing community will be ready to help create memorable experiences for all the participants and we look forward to making this event one of the best yet for participants."

For more information:
Frank Denis Patrick Godbout
Executive Director Communications Manager, Sail Canada
Sail Nova Scotia (514) 213-9897
902-293-0035 patrick@sailing.ca
office@sailnovascotia.ca