Back to overview
Doors are Open For New Champions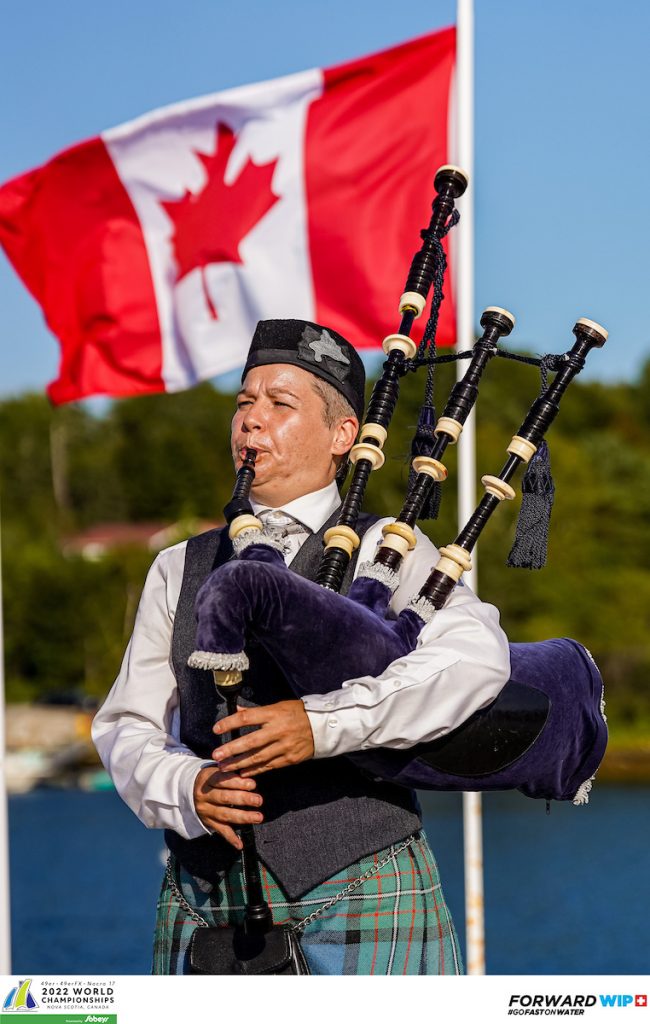 Hubbards, Nova Scotia, CANADA –
A bagpiper rang in the crowd Tuesday evening for the opening ceremonies of the 2022 World Championships as the waining seabreeze and sun filled the Hubbards waterfront. Practice racing, last minute rig and boat checks and even some relaxation and physiotherapy work on finicky muscles filled the sailors last day ahead of today's qualifiers begin.
French FX sailor Charlene Picon, stretching, bounced back and forth on the grass along the harbor's edge like a tennis player preparing to receive a serve. Maria Giubilei, an Italian Nacra 17 crew, sat patiently under a tree as tension in her left forearm was kneaded out by a masseuse while crews dried spinnakers in the sun.
This week's benign summer conditions will be replaced with a forecasted blustery warm front for today's racing over three courses on St. Margaret's Bay. And as the top teams in the Nacra 17, 49er and 49er FX tuned up on the water, there are young campaigners with their sights set firmly on passing their rivals and standing atop the podium by next Monday.
"We don't have to think about the other teams, we have to think about us, that's all we can do," said a relaxed but focused Gianluigi Ugolini, Italian Nacra 17 driver, as he sat in the shade on a picnic table yesterday, espresso in hand. He and his crew Giubilei have won the Nacra 17 junior worlds and were a surprise second at the 2021 Worlds. But on their way to the Olympic theater, the pair must consistently beat out the dominant Tita/Banti and Bissaro/Frascari, both world champions with the former team wearing the Tokyo 2020 Gold Medals.
"Last campaign we had to grow, we had a super team, so we have to learn a lot from them and now we really have the opportunity to fight for it," said Giubilei about the competition amongst the Italian Nacra 17 squad. She and Ugolini train in their home waters of Lago di Bracciano near Rome and see themselves this worlds as closer to peers rather than students compared to the other Italians
"We don't think that since they are older we have to give way to them," said Ugolini. "We have a really good relationship with Ruggi and Kata, and Vito and Maelle. We are happy to sail here with them and against them. We are ready."
More than one way to the top?
Chinese FX sailors Sasha Chen and Mengting Wang are ready, also, after winning the 2022 North Americans, and are looking to keep moving up at this Worlds even though the fleet is flush with medalists and world champions. "This result means that we have more confidence in competing in the world championship," said Chen.
And for the Chinese sailors, like many national teams, just their presence at the worlds helps build interest in Olympic sailing at home. "In our club in China there are many younger kids that are sailing the Nacra 15 that are really looking up to us," said Chinese Nacra 17 sailor Xuezhe Yang. "They will message us to say, 'Go for it,' and wish us luck as their role model."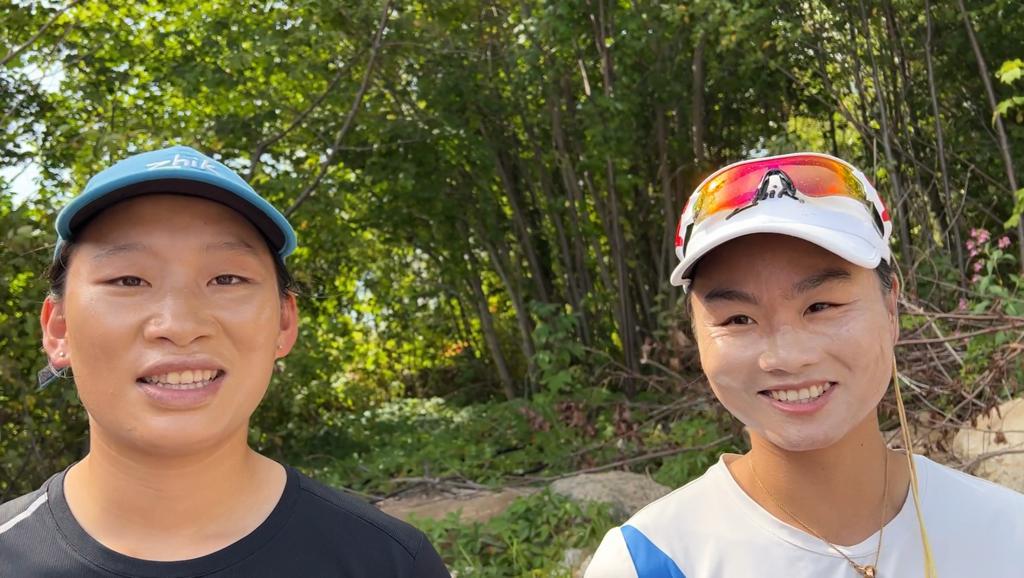 For team China, international racing is a rarity, a chance to check in with the rest of the world. Unlike many national teams, China focuses on having a large domestic competitive landscape and then send their top representatives to the Worlds. If Chen and Wang can continue to show it's a viable route to the top it may have other nations rethinking spending so much time on the road.
Racing begin today with the FX and Nacra 17 fleets up first followed by the 49er. There are single fleets of Nacra 17 and FX, while the 49er will run qualifying for three days followed by Gold and Silver fleet racing. Unlike typical championships, the final day of racing is Monday, to fit into the final long weekend of the North American summer.
Racing at the World Championship runs from August 31 – September 5, 2022 and is best accessed via the website: https://49er.org/event/2022-world-championship/
Daily tracking, results, photos, highlights, and articles will be available from the website. Additionally, Days 3 through 6 (Sept 2-5) will have live broadcast coverage via the CBC Sports App, youtube.com/49ersailing and fb.com/49ersailing. Note tracking will not be working on day 1 as Canadian Customs has not yet released the trackers.
Here are the daily links:
2022 49er, 49erFX and Nacra 17 World Championships, Halifax — Qualifying — Day 3
September 2, 2022 @ 11:00 UTC-3
https://youtu.be/Fh4zFApLpc0 (49er) or https://youtu.be/GqLQIVgIIEY (Nacra17)

2022 49er, 49erFX and Nacra 17 World Championships, Halifax — Gold Fleets — Day 4
September 3, 2022 @ 11:00 UTC-3
https://youtu.be/PoHeOF0XvI0 (49er) or https://youtu.be/aW78tdhUqfk (Nacra17)

2022 49er, 49erFX and Nacra 17 World Championships, Halifax — Gold Fleets — Day 5
September 4, 2022 @ 11:00 UTC-3
https://youtu.be/T598V4SwIhQ (49er) or https://youtu.be/Hbvr4L0tRsE (Nacra17)

2022 49er, 49erFX and Nacra 17 World Championships, Halifax — Gold Fleets — Day 6
September 5, 2022 @ 10:00 UTC-3
https://youtu.be/PolhasjOgU4 (49er) or https://youtu.be/Z4-zTS-B3lE (Nacra17)

2022 49er, 49erFX and Nacra 17 World Championships, Halifax — Medal Races — Day 6
September 5, 2022 @ 14:00 UTC-3
https://youtu.be/pjJxn2cKZ3E (49er) or https://youtu.be/OVPNdM3XJN8 (Nacra17)