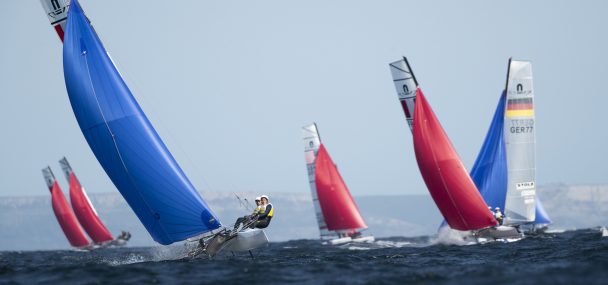 Who can stop the Italian Job?
The Danes and Argentineans made good moves up the scoreboard on the final day of Nacra 17 qualifying today. Lin Cenholt and CP Lubeck scored 4,1,3 to hold fourth overall, on equal points with the third-placed Italians, Vittorio Bissaro and Maele Frascari. Scoring an equally potent 1,3,4 were Mateo Majdalani and Eugenia Bosco, the Argentineans in 5th overall after three spectacular days and nine races of qualifying.
However, Ruggero Tita and Caterina Banti, edge a little further ahead after scoring 1,2,4, the Italians back to their very best form – the kind of form that saw them dominate the 2018 season. Between the top two Italian crews, the early years of Nacra foiling really have been owned by the ITA boats and, just when the rest of the world thought it might be closing the gap, they're showing a renewed level of performance. Even though Bissaro and Frascari had scored 3,2,4 from the previous day of windier racing, Frascari said they're never satisfied. "We didn't feel our set-up was quite right," she said, referring not just to the boat but to their mental approach. "You have to have the right mindset to sail these boats fast; you have to be in the moment, and you can't be scared, or you're not focusing on the right things."
The only non-Italian team in a podium position is the second-placed British team of John Gimson and Anna Burnet who believe they're reaping the rewards of a long winter of training in the Uruguayan summer of the southern hemisphere. "It wasn't that warm," said Burnet of her extended trip to Punta del Este, "but we did a lot of sailing in strong wind and big waves with the Uruguayans and Argentineans. They were a lot faster than us downwind in the big stuff, particularly Santi [Lange, the reigning Olympic Champion]. He's got no fear. It took us a while to work out what they were doing differently, but we're feeling the benefit of that training this week in the big waves. It's hard to put your finger on what it is, but it's partly foil set-up and technique in how you handle the boat."
When Gimson and Burnet are in sync, there's barely a word shared between them. "You hear other teams shouting, and actually that works for some of the fast teams," she said. "But John and I only shout when we're not quite thinking the same way about the next wave and how to handle it." The Brits are 5 points behind the Italian leaders and with the top 25 moving forward to the gold fleet racing, they'll be looking forward to taking the fight to the form team of Tita and Banti.
Meanwhile some big names languish further down the leaderboard, including the four-time World Champions from France, Billy Besson and Marie Riou, who copped a points penalty after failing to take a knife out on the boat for yesterday's racing, thereby breaking a class safety rule. The French sit in 14th overall, on equal points with Nathan and Haylee Outteridge. The Australian siblings are still learning the ropes in a class that's quite new to them, and they're really suffering downwind in the wavy conditions. "We've been getting to the windward mark in good shape," said Nathan, "but we haven't got a clue downwind. We've probably dropped something like 45 points downwind." It's not a problem of tactics, strategy or anything other than technique and boatspeed. "When you've got boats passing you to windward and to leeward at the same time, you know you've got some learning to do!"
Regatta information
Results:
Results will be posted race by race, as they happen
Schedule:
Wednesday 8 May 1700 Beach Clean
Monday 13 May 1055 Qualifying Races
Tuesday 14 May 1055 Qualifying Races
Wednesday 15 May 1055 Qualifying Races
Thursday 16 May 1055 Qualifying or Fleet Races
Friday 17 May 1055 Fleet Races
Saturday 18 May 1055 Fleet Races
Sunday 19 May 0955 Fleet Races
1500 Medal Races
TBC Prize giving
Photography:
49er and 49erFX: https://49er.org/event/2019-european-championship/#photos
Nacra 17: https://nacra17.org/events/2019-european-championship-2/#photos
Live Broadcast:
1. 49er Sailing – Gold Fleet Day 1 – 2019 Volvo European Championship
URL https://youtu.be/b3fsnwNGyqQ
<iframe width="480″ height="290″ src="https://www.youtube.com/embed/b3fsnwNGyqQ" frameborder="0″ allow="accelerometer; autoplay; encrypted-media; gyroscope; picture-in-picture" allowfullscreen></iframe>
2. 49er Sailing – Gold Fleet Day 2 – 2019 Volvo European Championship
URL https://youtu.be/7pxYk7L_Q54
<iframe width="480″ height="290″ src="https://www.youtube.com/embed/7pxYk7L_Q54" frameborder="0″ allow="accelerometer; autoplay; encrypted-media; gyroscope; picture-in-picture" allowfullscreen></iframe>
3. 49er Sailing – Gold Fleet Day 3 – 2019 Volvo European Championship
URL https://youtu.be/OGd_TQC3qEY
<iframe width="480″ height="290″ src="https://www.youtube.com/embed/OGd_TQC3qEY" frameborder="0″ allow="accelerometer; autoplay; encrypted-media; gyroscope; picture-in-picture" allowfullscreen></iframe>
4. 49er Sailing – Gold Fleet Day 4 – 2019 Volvo European Championship
URL https://youtu.be/rxrV_BLsZ_k
<iframe width="480″ height="290″ src="https://www.youtube.com/embed/rxrV_BLsZ_k" frameborder="0″ allow="accelerometer; autoplay; encrypted-media; gyroscope; picture-in-picture" allowfullscreen></iframe>
5. 49er Sailing – Medal Races – 2019 Volvo European Championship
URL https://youtu.be/XBxlZofvxPc
<iframe width="480″ height="290″ src="https://www.youtube.com/embed/XBxlZofvxPc" frameborder="0″ allow="accelerometer; autoplay; encrypted-media; gyroscope; picture-in-picture" allowfullscreen></iframe>
Highlights, Interviews & VNR:
Between May 16 and 19, Icarus Sports will be producing:

A daily two-minute highlights video

VNR and interviews for news

Footage can be downloaded from the Icarus portal – https://portal.icarus-sports.com/
Please contact Will Carson to request interviews
Social media:
Please follow the @49ersailing and @Nacra17sailing class social media channels on twitter, Instagram, and facebook for the latest info from the regatta. On youtube the channels are youtube.com/49ersailing and youtube.com/nacra17sailing