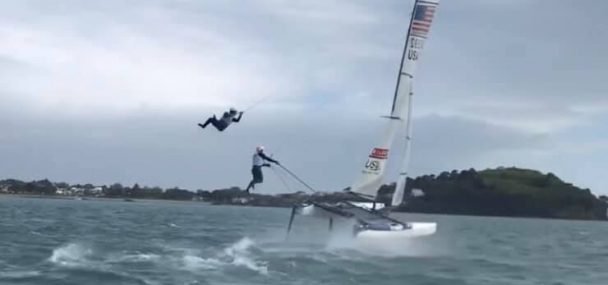 Nacra17 Athletes Descend on Auckland
Past Olympic champions and future medal hopefuls alike are descending on Auckland, New Zealand, for some pre-event training ahead of the 2019 49er, 49erFX and Nacra17 World Championships, to be held in early December from the Royal Akarana Yacht Club.
Ravi Parent and Caroline Atwood have set the SEND bar high already. What starts as an average coach boat video quickly descends into chaos. We won't say too much, except hit play!
The 2019 World Championships are one of the major regattas for the Nacra17 mixed multihull Olympic class, just eight months out from the Tokyo 2020 Games.
Alongside the battle to be crowned World Champion, the national battles for Olympic qualification and selection will be just as exciting, with many of the more successful Nacra17 nations boasting multiple teams worthy of Olympic selection.
Sky Sport New Zealand will be broadcasting racing LIVE throughout the entire regatta. Stay tuned to the event page on Nacra17.org for updates.