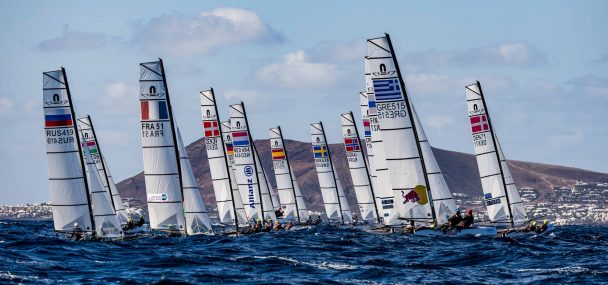 Kohlhoff/Stuhlemmer (GER) show class in the breeze, Kurtbay/Jarnive (FIN) take slim lead in chase for Olympic berth
Paul Kohlhoff and Alica Stuhlemmer (GER) dominated early going at the Lanzarote International Regatta to take a ten point lead after the first day or racing. In windy, wavy and shifty consitions these two showed they are ready for challenging weather, and that might scare Tokyo bound teams.
Lanzarote was chosen as a training destination by many Olympic fleets in part because of it's similarities to Tokyo conditions, and if that's the case the Olympic fleet should be worried about the Germans. Kohlhoff and Stuhlemmer have been fast in big breeze all quad long, expecially in flatter waters, but it seems their big wave skills are also elite and if the right conditoins show up in Tokyo it may be to their advantage.
Sinten Kurtbay and Janne Jarvin (FIN) sit in eighth overall, narrowly ahead of van der Meer and Bouwer (NED) who sit in ninth. Greece, Russia, Croatia, and Hungary all follow in the chase for the final Olympic berth.
Racing continues until March 26th with a medal race that will be live broadcast. The 49er fleet is also racing.