The Nacra 17 fleet got the 2018 World Championship started yesterday with 3 races in brisk and challenging conditions. On day 2 they will race in front of the TV cameras as they strive to take this championship.
Off to a great start has been perennial winners Rugerro Tita and Caterina Banti (ITA) who took three wins from three races to set the bar for the rest of the fleet. The duo has been practically unstoppable since joining up as a team after Rio 2016, with their worst finish being 3rd at least years worlds after they fouled in the medal race. They've won every other championship they've entered, and are off to a good start so far here in Aahurs.
It is early days for the championship, so most top team will be trying to avoid catastrophe rather than worrying too much about any one individual race. Who contending teams were not so lucky are Gemma Jones with Jason Saunder (NZL) and Riley Gibbs with Louisa Chaffee (USA). Both teams suffered breakdowns in the harsh conditions, each scoring DNF's in two of the three races. With 68 teams competing, each must get into the top 34 by end of qualifying to make the Gold Fleet and retain a shot at winning on of the 8 national Olympic berths on offer.
The schedule on day 2 for Nacra 17 is two races for each fleet on the TV course. Then on Day 3 they will race another 3 races to finish qualifying.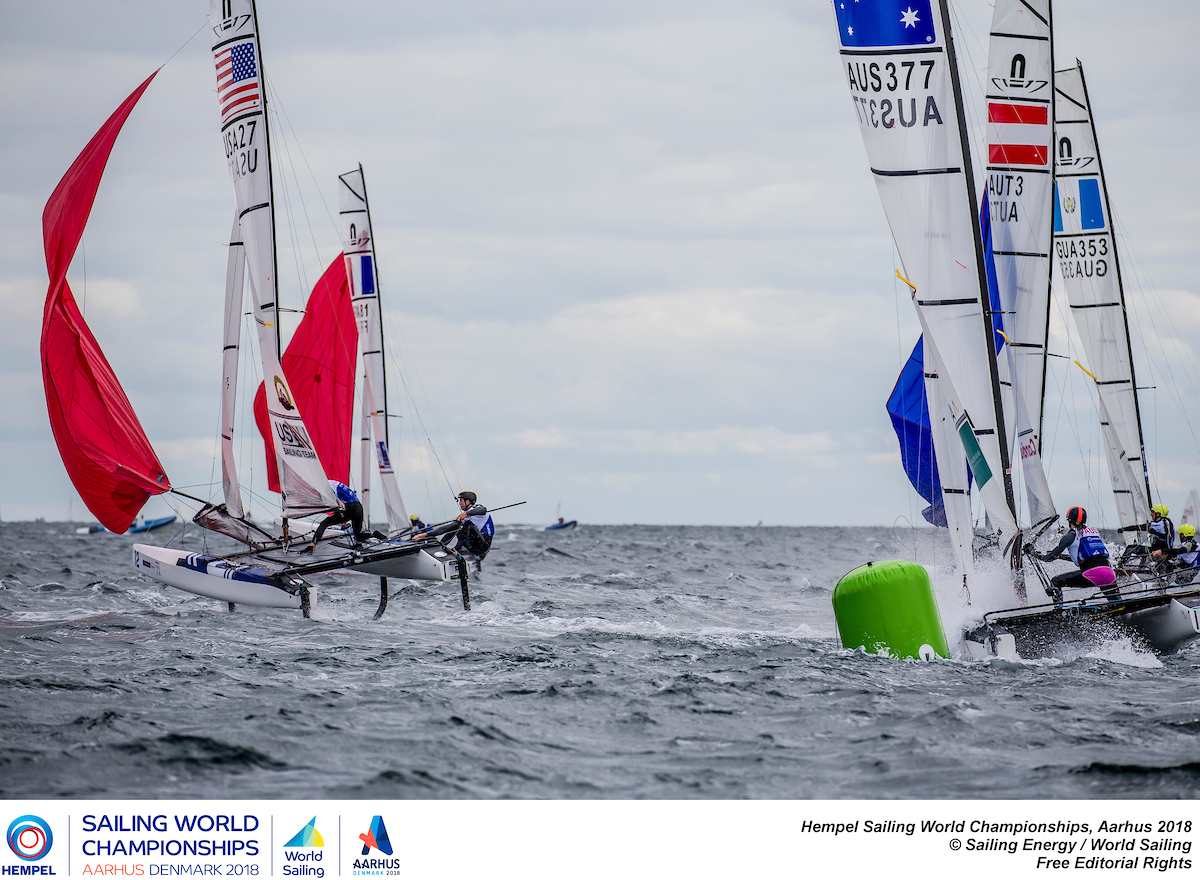 Nacra 17 Top 5 – Full Results
1            ITA        Ruggero Tita, Caterina BantiNZL                2
2            AUT      Thomas Zajac, Barbara Matz                      3
3            ITA       Vittoria Bissaro, Maelle Friscari                    4
4            ARG     Santiago Lange, Cecelia Carranza              4
5            ARG      Mateo Mahdaljani, Eugenia Bosco             7