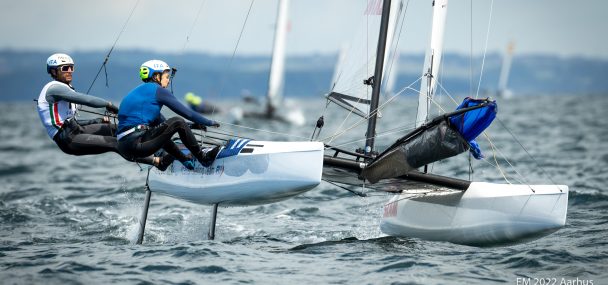 Not-Quite-Survival for Nacra Fleet Opens Door for New Campaigners
Finish driver Sinem Kirby shook her head as she stretched her lifejacket over her head, standing in a puddle of fresh water. The day was a blur for her and the 32 Nacra sailors who all had to manage with 30-plus knot gusts and massive shifts to foil above the waves on the first day of their European Championship. Some big numbers ended up in many teams' scorelines but this is just the beginning ing of the qualifying series here in Aarhus.
"It was kind of fun, but it didn't go very well," said Kurtbay, who won silver at Trofeo Princess Sophia this spring. When asked what "not very well" means she said, "I don't even know, that's how many boats were in front of us."
No one was immune from the dicey conditions save for reigning Olympic champions Tita and Banti of Italy who ended day one with a 2, 1, 1. The second place Dutch pair of van der Meer and Bouwer faired as well with a 4, 2, 2 while even Tokyo silver medalists Gimson and Burnett caught a blemish of a 9 to add to their 5, 4. The British pair said they were uneasy with the conditions and were even anxious to get their sails down in the snappy gusts at the dinghy park.
The Dutch team are on a fast climb through the fleet and New Zealand sailors Wilkinson and Dawson are starting to see their best results yet winning race one and are sitting in fifth. The two teams are nestled among Olympic medalists that include Argentinian Nacra gold medalist Santiago Lange with new crew Victoria Travascio.
This Europeans is a benchmark event in this shortened Olympic cycle as it is the first event since Tokyo just over a year ago where all the top campaigners are on site and driving hard in their progression.
The big news here at Sailing Aarhus for the Nacra fleet is the development of upwind foiling following the addition of a new class rudder head in 2022 that is adjustable while sailing. Without getting too geeky with the details, this 1,000 euro upgrade is a game changer, allowing boats to go several knots faster upwind and unlocking more speed downwind.
The Italian team of Tita and Banti have certainly lead the way in finding the the magical recipe of settings that allow the four foils to both be lifting (leeward foils) and leveraging (windward foils) the boats righting moment, sending a Nacra 17 into a new level of performance. The rest of the fleet have been analyzing data and calibrating their control systems, feeling out this new mode of flight and getting to the compulsory skill of not just flying upwind, but doing it stable enough to squeeze out numbers in the 17 knots range.
Another windy day is forecast for day two and we will be looking out for the teams that keep opening top the throttle all around the course.
49erFX Fleet
"We can have gusts up to 30 knots and we still managed so we are happy," said Charline Picon, teamed with Sarah Steyaert about the conditions today. The French pair, both Olympians (Picon with two medals) and World Champions, only started sailing together last October but are having their moments to shine.
It was the Schmidt sisters, Johanne and Andrea, of Denmark who lead the way in the 49er FX fleet and had a loud cheering squad when they returned with a 3,2,3 scoreline to top Americans Roble and Shea, two points behind in second followed by Bobeck and Nertzler of Sweden one point behind them in third.
With gusts above 30 knots and spinning rain squalls the 2022 49er, FX and Nacra 17 European Championships kicked off in Aarhus with all the top teams taking lessons from some new teams.
As the sailors hose the salt off their sails and boats, power down bowls of pasta, the vibe after sailing today was one of frustration and relief as they recounted how unpredictable shifts on the Bay of Aarhus left some hung out to dry on one side of the course or the other.
The 49er fleet was on land as the big rain squall engulfed the FX and Nacra fleets and those who set up for the bigger shifts each leg reaped big rewards while others ate double digit finishes.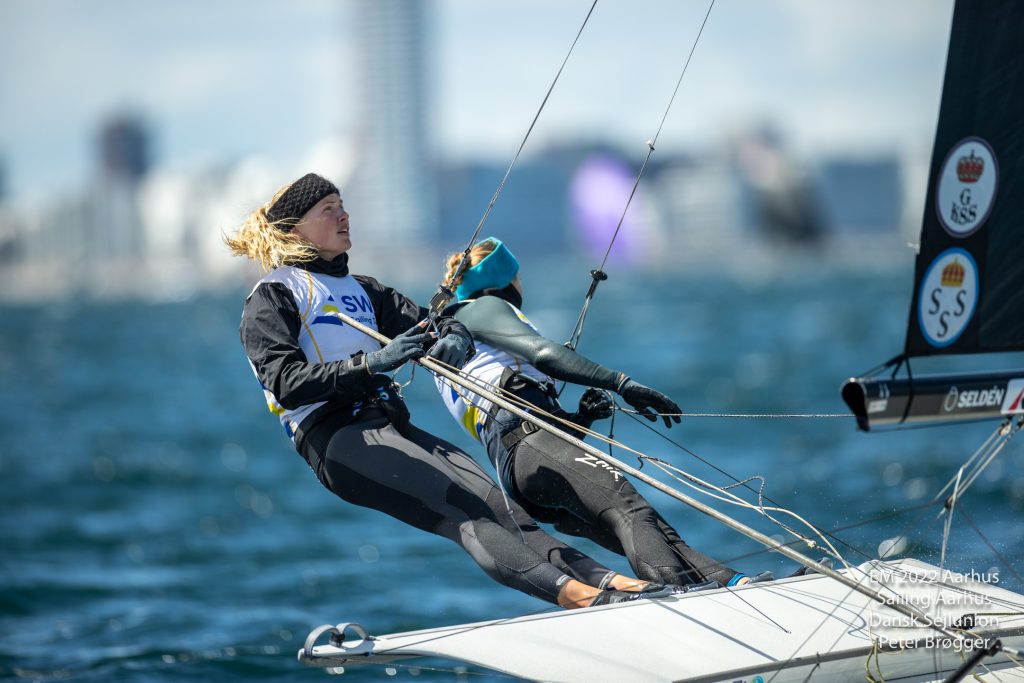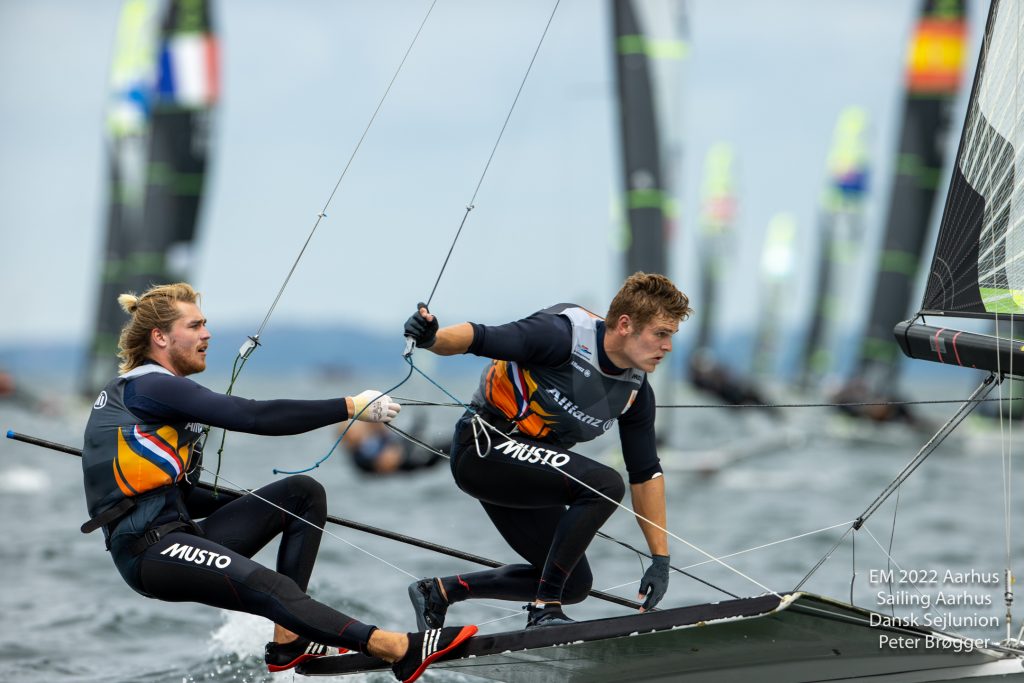 Info
The 2022 European Championship from Aarhus run from July 5-10, 2022. Daily live broadcasts will begin on July 8th and run through to the medal race finish on July 10th. For full results, photos, articles and more head to the regatta website.