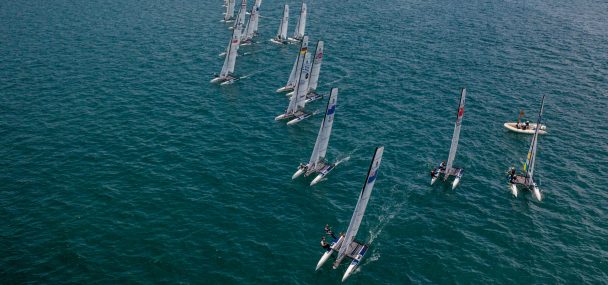 NZ Nacra pair in a race against time
Something different happened on Hauraki Gulf today and it helped Liv Mackay and Jason Saunders put another piece of their world championships puzzle together.
After two months or predominantly fresh south-westerly winds, a nice 10-knot sea breeze rolled down the harbour for racing on the second day of the Hyundai Oceania Championships, the warmup regatta to next week's Hyundai 49er, 49erFX and Nacra 17 world championships.
Mackay and Saunders, who started sailing together about two months ago, came off the water today feeling more confident about where they stack up in the Nacra 17 fleet after finishing third, 13th and sixth in their three races. It left them in 12th overall, 12 points off third.
Results, though, are largely secondary in the Oceania Championships as teams finalise their setups ahead of next week's world championships. Mackay and Saunders know they have a bit more to learn than other crews.
"It definitely has been a bit of a race against time," Mackay said. "Being a reasonably new combination, the Oceania champs is a good chance for us to get some practice racing in and check in with our speed."
Great Britain's Ben Saxton and Nicola Boniface have shown the most speed over the first two days, winning four of their six races to hold an eight-point lead over Australia's Jason Waterhouse and Lisa Darmanin. Gemma Jones and Josh Porebski, who are another new combination, are the top Kiwis in ninth.
"We had some questions in this lighter stuff because we just hadn't sailed in it," said Saunders, who finished fourth with Jones at the 2016 Rio Olympics. "We felt like we were going quick out there today, which was pleasing.
"It's been a game of managing priorities. We just haven't had enough time to tick everything off. We have just picked a few key things we have wanted to work on and I think it's coming to fruition now. I feel confident that we will be fast enough to get a result [at the world champs] if we sail well. We are pretty happy with where we are at."
At the other end of the spectrum are Alex Maloney and Molly Meech, who have been sailing together since 2012. The pair won their final race in the 49erFX fleet today and are third overall, three points behind Stephanie Roble and Maggie Shea from the United States and Brazil's Martine Grael and Kahena Kunze.
The Oceania Championships provide the perfect opportunity for the Olympic silver medallists to get back into their race groove three months after their last regatta and they feel like things are coming together.
"It feels a bit more relaxed than at a world championships but everyone is still trying pretty hard," Maloney said. "If you don't really try, then you're probably not going to learn as much as you can. We are going for it but we are also in quite a learning mindset.
"We definitely have a few things to work on but we are finding our form more and more. It's good to get back into race mode. We are making a few mistakes which are obvious in hindsight but having the experience now will help us make a few different decisions next week."
The top sailors in all three classes will race each other in gold fleet racing tomorrow to decide the medals.
New Zealand's top three 49er crews all produced some good form today, with Isaac McHardie and William McKenzie maintaining their position in third and Peter Burling and Blair Tuke moving up one spot into fourth.
Logan Dunning Beck and Oscar Gunn won their first race of the day but their scorecard was marred by a second start line disqualification of the regatta in the final race.
As Gunn said, better this week than next week.
Story reproduced thanks to Yachting New Zealand