As the excitement builds for the 2023 Nacra 17 World Championship, sailors and fans alike are eagerly anticipating the intense competition that lies ahead. With only nine nations set to qualify for the Tokyo Olympics, the stakes are high for all participating teams. There are fleets within fleets, and we'll review what that means for the task at hand, Olympic berths. Our titles are a bit simplistic, as there is far more variation in any individual regatta than we might wish to admit. A bad day, a breakage, or a random penalty at a critical moment can radically shake up the standings. That said, we've divided the groups into "Almost a Lock," "Likely to Get In," and "On the Bubble."
In the nacra17 and FX, there were 10 spots available, from a total of 20 Olympic spots. The Nacra 17 only has 19 total Olympic spots, and therefore 9 spots are available at the 2023 Sailing World Championship.
Here is the form book prior to the first start.
Almost a Lock:
Italy:
Italy, essentially, owns the Nacra 17 class. Ruggero Tita and Caterina Banti, stand as a firm favorite having won the Tokyo Olympics and the 2022 Worlds. The pair are sailing royalty now in Italy, but we'll delve deeper into things over the regatta. With respect to qualifying, crucially, the Italians are also starting Gigi Ugolini with Maria Giubilei who recently won the Test Event and Vittorio Bissaro with Maelle Frascari who are the 2019 World Champions. Any of these three teams could win the regatta, and if there was ever a lock to secure a spot at the Tokyo Olympics, it is Italy in the Nacra 17. Italy has won every World Championship since 2017 except for 2021, the covid year, and most of the other regattas in between.
Almost all of the remaining nations rely on a single team to perform, so while this form guide is accurate, there is additional risk to any one nation qualifying as disqualifications, injuries or simple bad sailing can impact any team at any regatta. That said, the updated Nacra 17 is remarkably robust since the move to full foiling in 2017, and these top sailors should qualify their nations for Paris.
Britain:
John Gimson and Anna Burnet have consistently showcased their prowess on the water, earning them a spot in the "Almost a Lock" category. Their impressive performances in major competitions and their strong synergy as a team and couple make them strong contenders for Olympic qualification.
Finland:
Finland's Nacra 17 sailors, Sinem Kurtbay and Akseli Keskinen, have steadily climbed the ranks in recent years. With their remarkable progress and notable achievements on the international stage, they are likely to secure a place in Tokyo 2024. No team has improved more since the Tokyo games than the Fins, and they 'should' have won the Test Event last month save for a poor performance in the medal race.
Germany:
Paul Kohlhoff and Alica Stuhlemmer have demonstrated great skill and potential, earning Germany a spot among the "Almost a Lock" teams. The Tokyo Bronze medalists have not been sailing as much this quad, but when they do show up they have been sailing well and should be able to get to the front of enough races to be in the top 9 nations.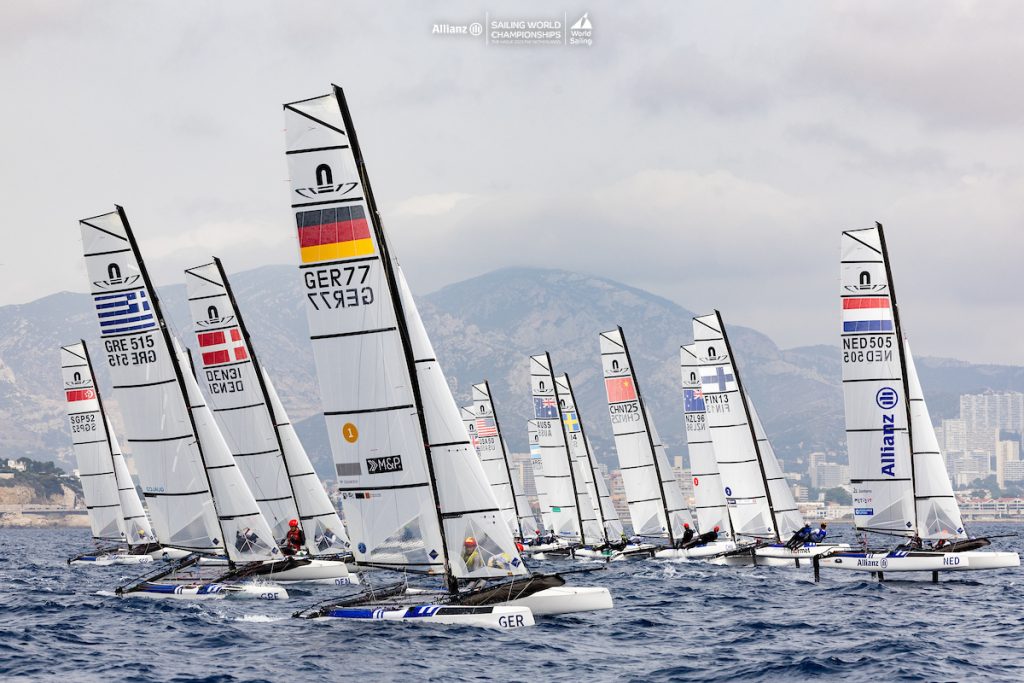 Likely to Get In:
New Zealand (NZL):
Micah Wilkinson with Erica Dawson, representing New Zealand, have proven their mettle in the Nacra 17 class. With strong performances in various competitions, they are well-positioned to secure a place at the Tokyo Olympics.
Netherlands (NED):
The Dutch team of Laila van der Meer and Bjarne Bouwer boasts significant talent and potential. With impressive showings in international events, they are likely to be among the nations qualifying for the Olympics. If the Fins have improved the most this quad then the Dutch are right behind them. They won the 2022 Junior World Championship by a country mile, winning almost all of the races. The pair are also spurred on by being in front of their home nation, and should be able to land a spot.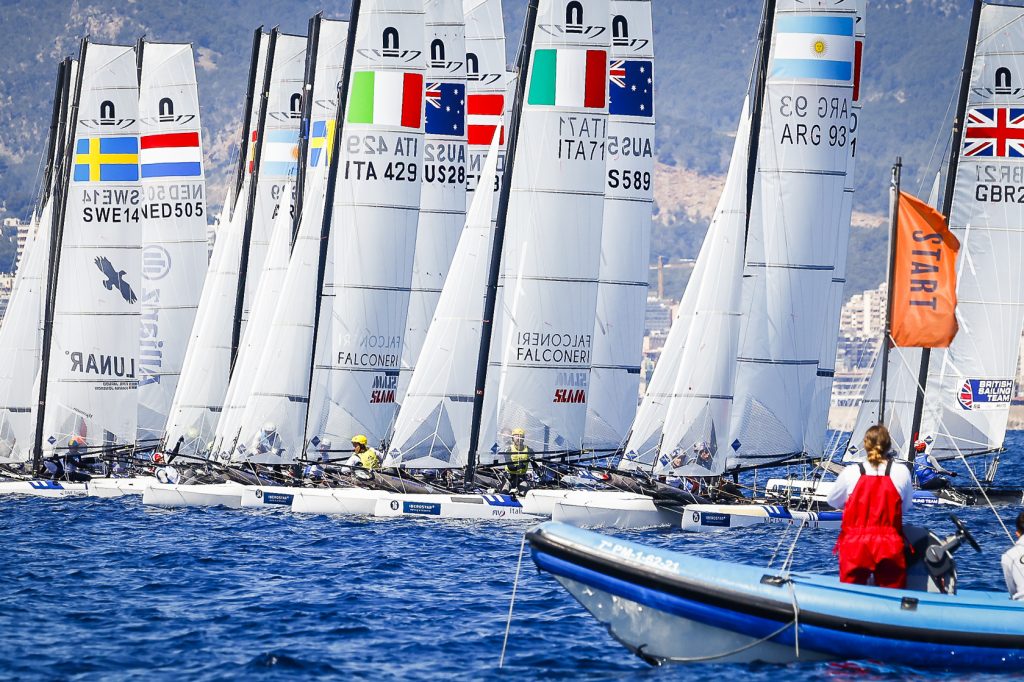 Sweden (SWE):
Sweden has two strong teams that have been sailing well this quad. Emil Jarudd with Hanna Jonsson are typically their lead boat, but Ida Svensson with Marcus Dackhammar could also have a good regatta, leaving Sweden with two kicks as the can for qualifying.
On the Bubble:
Denmark (DEN) Natacha Saouma- Pedersen with Mathias Broreskov step are the sole Danish team. They've been working hard and are coming into their primes as sailors. They haven't quite progressed to the elite levels of Nacra sailing yet, but can grab an Olympic spot with only an average finish given their skillset.
United States (USA) – Sarah Newberry and David Liebenberg are the only remaining full time team from America, down from a squad of 5 just a couple years ago. The American's have been struggling to keep teams together. Newberry and Liebenberg are on a credible campaign and making steps forward all the time.
Australia (AUS) – With a 1, 2, 3 at the recent Junior Worlds, Australia has a strong future in Nacra 17 sailing to be sure. The transition point between the future and the present got a jolt recently as Jason Waterhouse announced his retirement from Olympic campaigning to focus on family and pro sailing. The five strong squad is headlined by medalist turned coach turned racer, Darren Bundock, who steps into the Waterhouse boat with Darmanin. The pair struggled in his first foray back into the fleet, finishing deep at the test Event but this pair of medalists could still be top Aussie team, and could secure an Olympic berth.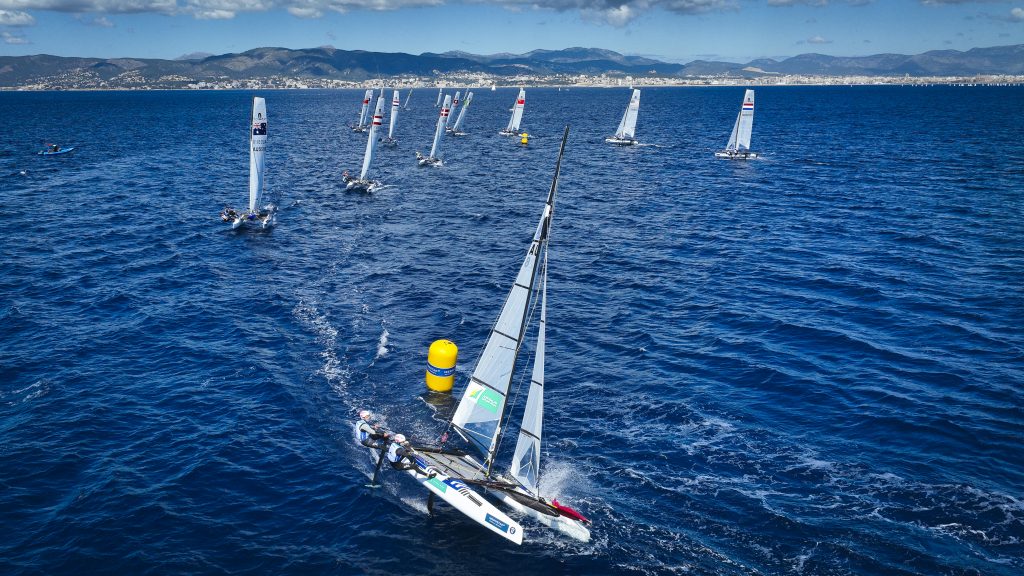 China (CHN) – There are four Chinese entries, and they are all relatively new to the international circuit. There is a large Chinese domestic circuit and these are the best of that bunch. We've seen strong Chinese performances from teams outside the international circuit recently in the FX and nacra17, so the performance from Team China is a bit of a wildcard right now.
Spain (ESP) – Tara Pacheco was right at the top of Nacra 17 sailing when she split with Florian Trittel and he headed for the nacra17. Since then she has occasionally sailed, but also stayed in touch with coaching. This is her first time back at a big competition, and it's fair to wonder if she's fully up to speed with the upwind foiling.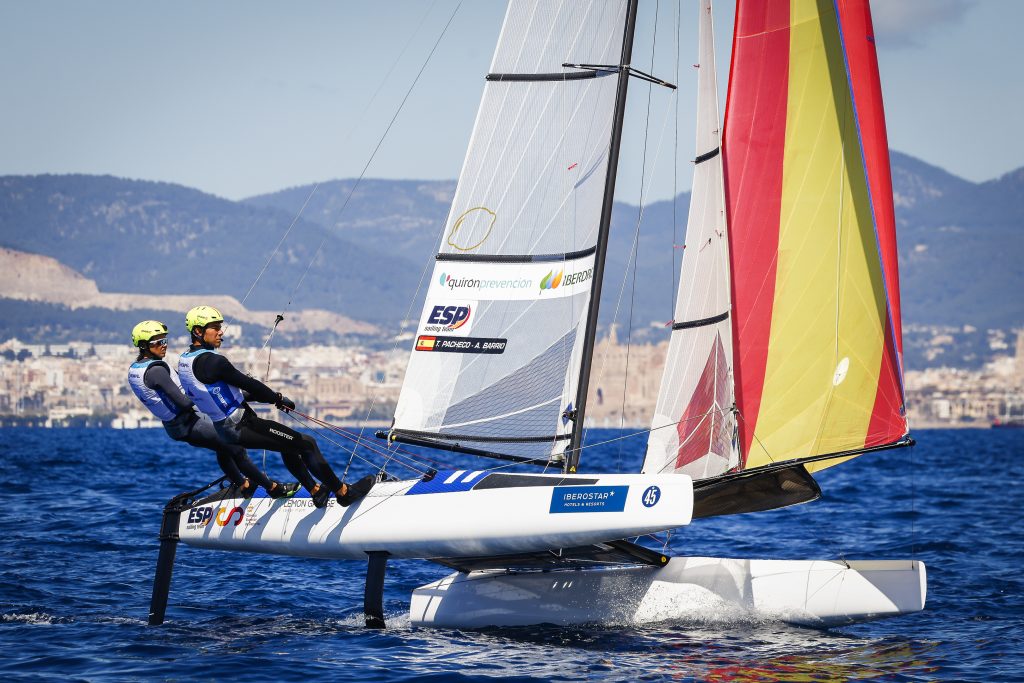 Austria (AUT) – Lukasz Haberl with bronze medalist Tanja Franck have had an inconsistent commitment program so far, but have plenty of experience to sail well.
Brazil (BRA) – The Brazilian teams are both very experienced, but haven't been on circuit much this quad, with covid taking a bit toll on their international travel. They've both been at the top of the fleet previously but we just haven't seen them recently.
Greece (GRE) – Iordanis Paschalidis with Myrto Papadopoulou have been training really hard all quad. Combining top level experience in the F18 with the youthful Papadopoulou means this teams has lots of potential. They've been off the pace from time to time, but continue to improve.
Singapore (SGP) – We haven't seen much of Justin Liu and Denise Lim since they dropped out of contention for Tokyo just before the final qualifier, but this team were on a big upward track last quad.
The teams listed in this category face intense competition and will be battling it out for the remaining Olympic berths. These sailors have shown glimpses of potential and have the talent to qualify, but they must deliver exceptional performances to secure their spots in Tokyo.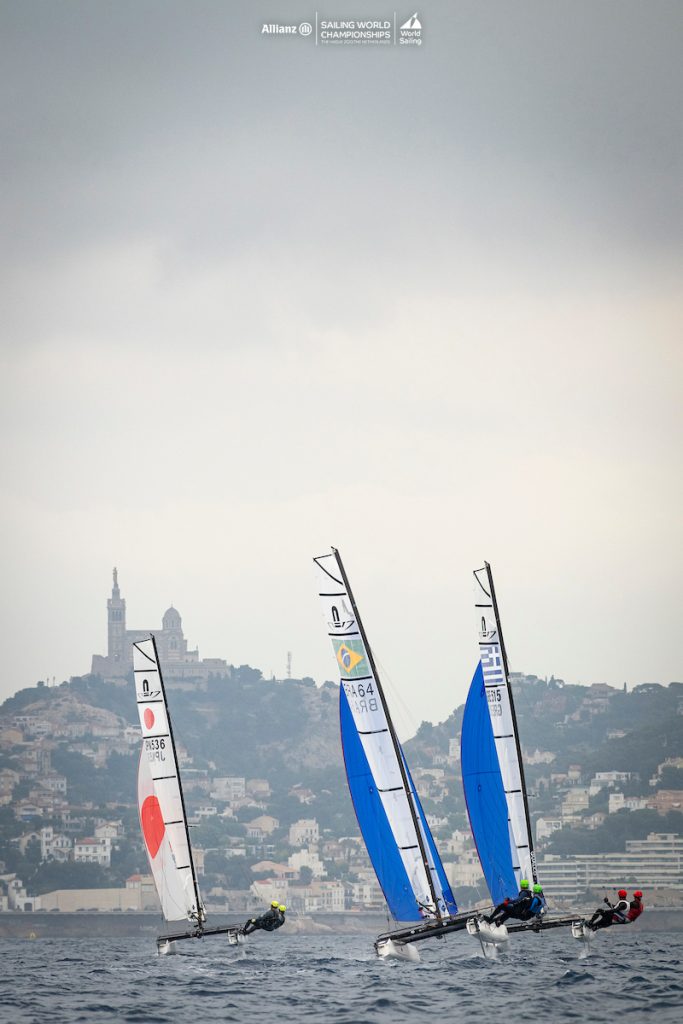 Conclusion
The 2023 Nacra 17 World Championship promises to be a fiercely competitive event. With only nine nations qualifying for the Tokyo Olympics, every race will carry immense significance, especially in qualifying. While some teams are almost certain to secure their spots, others will be on the bubble, striving to clinch a place in sailing's most prestigious event. As we witness the drama unfold on the waters of The Hague, Holland, let us cheer on these remarkable athletes as they chase their Olympic dreams.
Don't miss a beat in the thrilling world of nacra17 sailing! Subscribe to our newsletter here and receive the latest updates, breaking news, and exclusive behind-the-scenes content directly in your inbox. Plus, be the first to know when the live broadcast for the World Championships will kick off. Stay connected to the action – subscribe now!