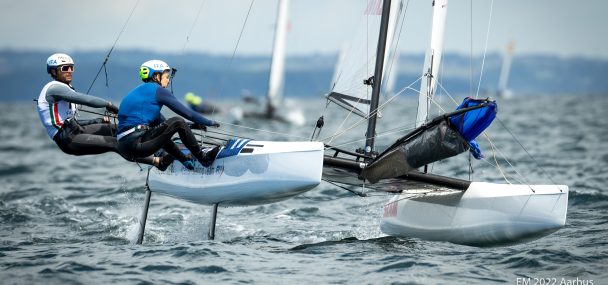 Kiwis and Germans Stretch Legs, Inch Up Ladder
There must have been something "right" about Vittorio Bissaro's frame of mind this morning as he crouched in the gravel boat park while meticulously taping the inspection port on one of his Nacra 17 hulls. He and Maelle Frascari are world champs in the class but have been leaving double digits on the the table until the last race today, where they passed the seemingly unstoppable German pair of Kohlhoff/Stuhlemmer for the win.
"The majority of the water that comes in the hulls comes from these ports," said Bissaro who was struggling with this week's shifting and gusty conditions. But today was a good day. The sun was blaring down on the Bay of Aarhus, the shifts settled down and the Italians had a jump on the fleet starting in the middle of the line and foiling upwind while most were shifting. At times there was two miles between the left and right groups and though the Germans were launched on the first downwind, Bissaro/Frascari found their passing lanes on each leg, trouncing to first by the final downwind leg.
Tita/Banti sailed their throw out (8th) in the last race of the day while Kohlhoff/Stuhlemmer locked in fourth place overall in this qualifying series with a second in race 6.
The standouts this week are still the young New Zealanders Wilkinson/Dawson who are solidly locked into second place. Their event results in 2022 have been a six, five and four. If that's a trend, then top three looks quite attainable for the pair.
But this is still qualifying races through Thursday and keen observers know that the likes of Olympic medalists Lange/Travascio (ARG), Waterhouse/Darmanin (AUS), and steady climbers including Kurtbay/Keskinen (FIN) are carefully eliminating mistakes, readying themselves to take any opportunity and steel races from the current leaders.