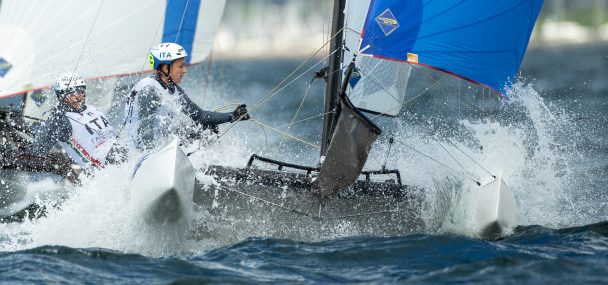 Tita and Banti Dominate in Fourth European Championship
Aarhus, Denmark – Olympic sailing is hugely competitive, but dominating performances, and seasons do happen. Rarely, if ever, has a team won a major championship the way Ruggero Tita and Caterina Banti won this European Championship in Aarhus. In 15 races they won nine of them, were second 5 times, and had an eighth. In total, their 21 points is less than a quarter of the 86 points the second place team scored.
The Nacra 17 had a reset in March as the fleet introduced adjustable rudder rake systems. The change allows foiling upwind most of the time and it seems to have played right into the strength of the reigning gold medalists. Tita and Bandi are dominant on the foil, which was already clear from their downwind sailing in the Tokyo quad and has become unwieldly as the fleet has move to full foiling.
The rest of the fleet is watching their every movement, however, and no doubt the gaps will diminish over time.
Finishing second to the slick Italians are a young duo of Micah Wilkinson and Erica Dawson (NZL) who appear on the podium at a championship for the first time. The pair narrowly won Kiwi Olympic selection to Tokyo, but dealt with an injury in the months leading up to the games which did not allow them to be at top form at the Olympics. Their racing this week was very strong in what was quite a competitive fleet behind Italians, and the Kiwis sailed very consistently all week showing they will be a team to keep an eye on.
Sinem Kurtbay with Akseli Keskinen (FIN) finished third, which is also their first trip to the podium at a major championship. The pair have been on a steady rise for the past couple of seasons and look poised to become headliners.
The fleet packs up now for shipping to Nova Scotia, Canada for the World Championship at the end of the summer.
Here is a link to the full results, photos, tracking, live broadcast, and more.
Live Broadcast Replay