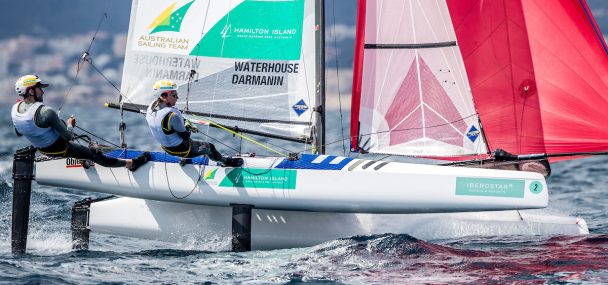 What We Learned in Palma: Waterhouse & Darmanin Make It Three In A Row and National Selections Tighten Up
Rio 2016 Silver medallists Jason Waterhouse and Lisa Darmanin from Australia took out the 50th Trofeo Princesa Sofia Iberostar proving that consistency wins regattas.
Aussies On A Roll
With a scoreline outside the top ten on only two occasions, the Australian cousins put on a masterful display of Nacra17 sailing in conditions ranging from near drifting to winds hitting 25 knots. Following on from their wins at the Hempel World Cup Series events in Enoshima and Miami, victory in Mallorca now places Waterhouse and Darmanin firmly as the form boat going into the European season.

Italy's Vittorio Bissaro and Maelle Frascari took second place, narrowly beating Great Britain's John Gimson and Anna Burnet by only two points, with the podium placings being decided in the final race of Gold fleet.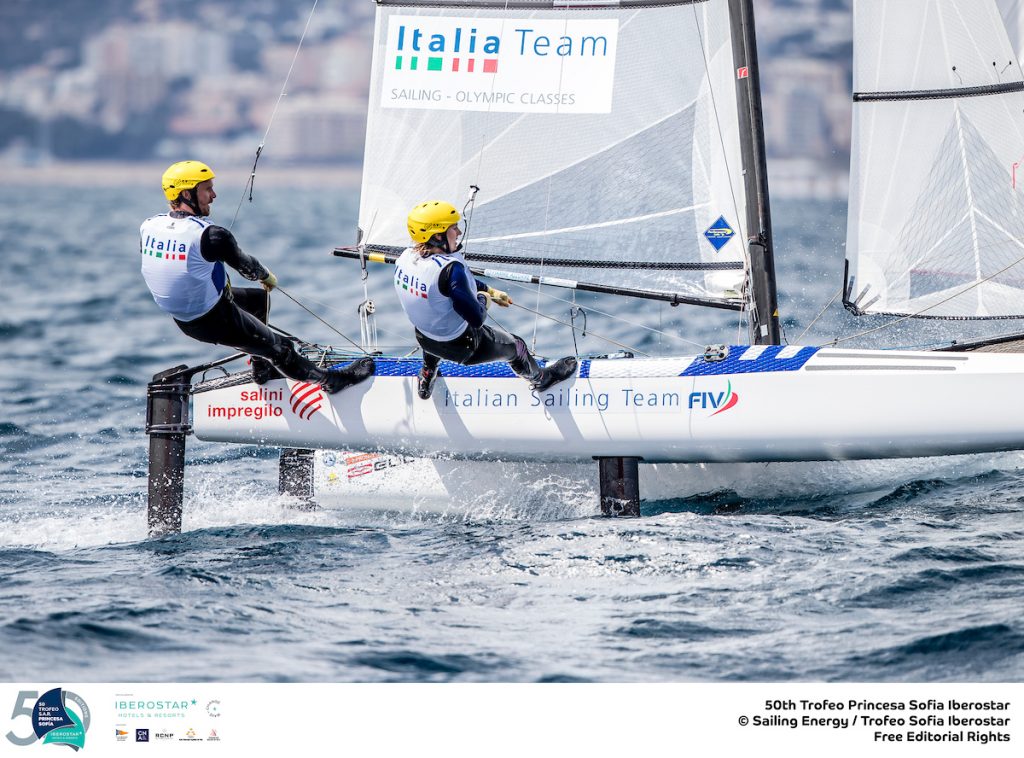 Waterhouse said: "This is the first stop for the European season, a real confidence-booster and we're three wins in a row now so we're pretty happy. We didn't do anything special but we're consistent each day. We never won the day but we had good days. The fleet is so competitive, everyone is so up there and just trying to stay in the top eight. A lot of people underestimate just keeping the points low, you don't need to win races just stay consistent. In terms of wind range we don't have a wheelhouse, our results were really consistent through all wind ranges which we're really pleased about."

The regatta began in very light and tricky conditions, with Germans Paul Kohlhoff & Alica Stuhlemmer, and New Zealanders Gemma Jones & Jason Saunders off to the best starts on day one. Day two saw more typical Palma conditions, with warm sunshine and a moderate seabreeze. Following an 18th and 2nd placing on the opening day, the current World and defending Trofeo Princesa Sofia Champions Ruggero Tita & Caterina Banti (ITA) jumped to the top of the leaderboard after a string of second places.

But consistency proved to be the winning formula, when on day three Waterhouse & Darmanin took the overall lead, a lead they would not relinquish, extending to 18 points by the end of finals racing. With the medal race blown out due to strong winds and a dangerous sea state, the result were sealed.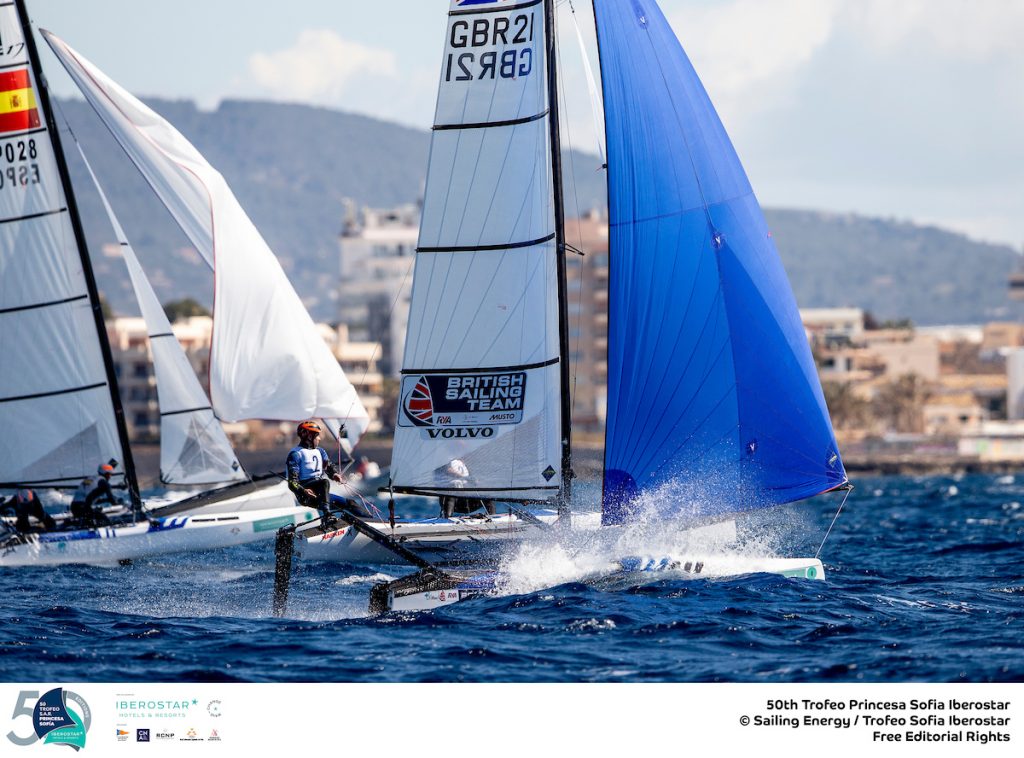 Going Fast
The Nacra17 racing was not without it's fair share of excitement. On the final race of day five, Kohlhoff and Stuhlemmer were involved in a collision with Tita and Banti, causing extensive damage to both boats but avoiding any major injuries to the sailors. Kohlhoff and Stuhlemmer managed to limp across the finish line while Tita and Banti's race was over. Both teams had secured replacement equipment for the medal race scheduled for the following day.
The official Trofeo Princesa Sofia Iberostar media team also had a case of 'right place, right time'. Placing themselves on the pin end of the finish line earlier in the week for an exciting finish as Ben Saxton & Nicola Boniface (GBR) capsized as they crossed the line directly in front of Rio 2016 Gold Medallists Santiago Lange & Cecilia Carranza Saroli (ARG).
Olympic Selection
With 15 months to go until the 2020 Olympic Games in Tokyo, the race for national selection is heating up. For the British Sailing Team, Gimson & Burnet proved too consistent for the 2016 British Olympian Ben Saxton & crew Nicola Boniface who placed third and fourth respectively but with a large points gap between the two teams.
"We're super-stoked to win a medal." says Gimson. "It's been a really good week for us. We're just trying to get consistent in all conditions and I think with the training we've done this winter [in Uruguay] we're starting to show that we can do that. We're pretty happy. It's made our winter training seem like it was worthwhile."

The newly formed Spanish duo of Tara Pacheco and Florian Trittle outclassed double Olympic 49er medalist Iker Martinez and his crew Olga Maslivets to put pressure on the Spanish selectors, while Bissaro & Frascari defeated their Italian training partners and current World Champions Tita & Banti.

The first full season of foiling Nacra 17 racing saw Tita and Banti dominate the fleet, resulting in the Italian team receiving nomination for the prestigious Rolex World Sailors of the Year award. As we move into 2019 and closer to the Tokyo Olympic Games, the question was wether the rest of the world could catch up. If Palma was anything to go by, that question has been answered.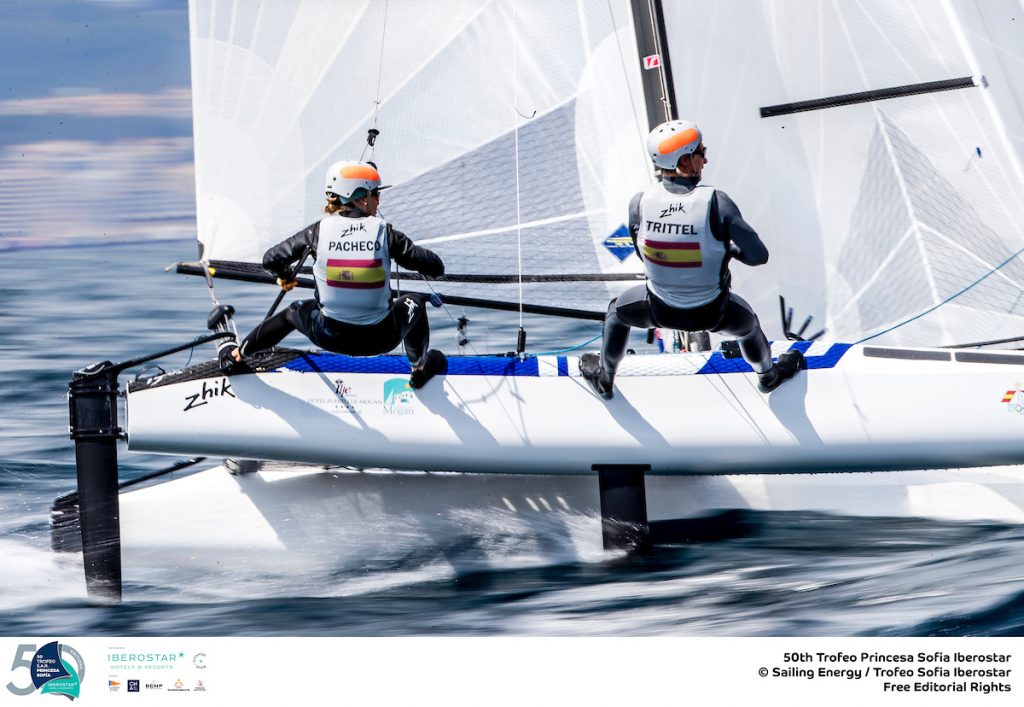 For the U.S. Sailing Team, Rio Olympians Bora Gulari and Louisa Chafee finished the week in 24th place and were only able to break into the top ten on three occasions. With a string of results in the high twenties Gulari & Chafee were shown a clean pair of heels by the new pairing of Riley Gibbs and Anna Weis, who finished 12th overall and well clear of their closest U.S. teammates.
"I think both Riley and I are very focused on ourselves and learning as a team." Weis commented after the event. "We have only sailed about 30 days together and so we both have a lot of learning and work to do. It was cool to see how we stacked up against the rest in the world but we still have a long way to go. We are focused on the process and will trust that the results will come with the work we put in."
As the Olympic calendar evolves, national teams and Olympic selection is following suit. Becoming increasingly popular amongst national teams is the multi-event series to qualify within a country for the games.
In decades past, when the U.S.A. lead Olympic sailing, their one and done selection events were the go-to policy of the era. These single event trials were specifically used to simulate the stress of the Olympic Games and identify the athletes who could produce results under pressure.
With the qualification for Tokyo starting earlier in the four year Olympic cycle than ever, national teams are using also bringing their team selection forward. In contrast to the single event trials, nations are now looking to reward consistency and remove outlier performances from their selection process. Most national teams are now implementing numerically based systems to avoid controversy, with results based off multiple World level events to determine which team is selected to represent their country at the 2020 Olympic Games.
We have already seen many national teams using the 2019 Trofeo Princesa Sofia regatta in their selection process, as well as a combination of their respective Continental and World Championships and the Hempel World Cup Series events.
Up Next
The Nacra17 fleet now moves on to Genoa on the Italian coast. From 14 to 21 April, Genoa will host its first Hempel World Cup Series event and the third of the 2019 Series following events in Enoshima, Japan, the Tokyo 2020 Olympic venue, and Miami USA.

Genoa is the penultimate stop of the 2019 Hempel World Cup Series with the event the last opportunity for sailors to book a spot at the Series Final in Marseille, France at the start of June.

In 2020, the event will act as the European continental qualification regatta for Tokyo 2020, marking its importance to the international sailing calendar.