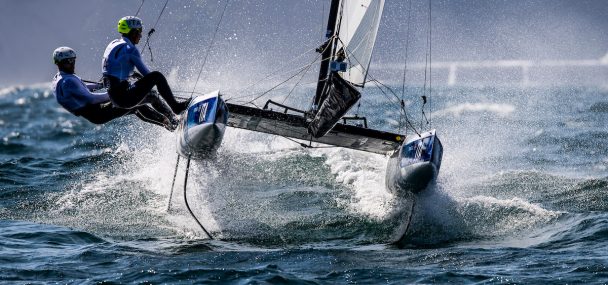 Breakaway Speed
Tita and Banti Fly Downwind for Day 1 Nacra Lead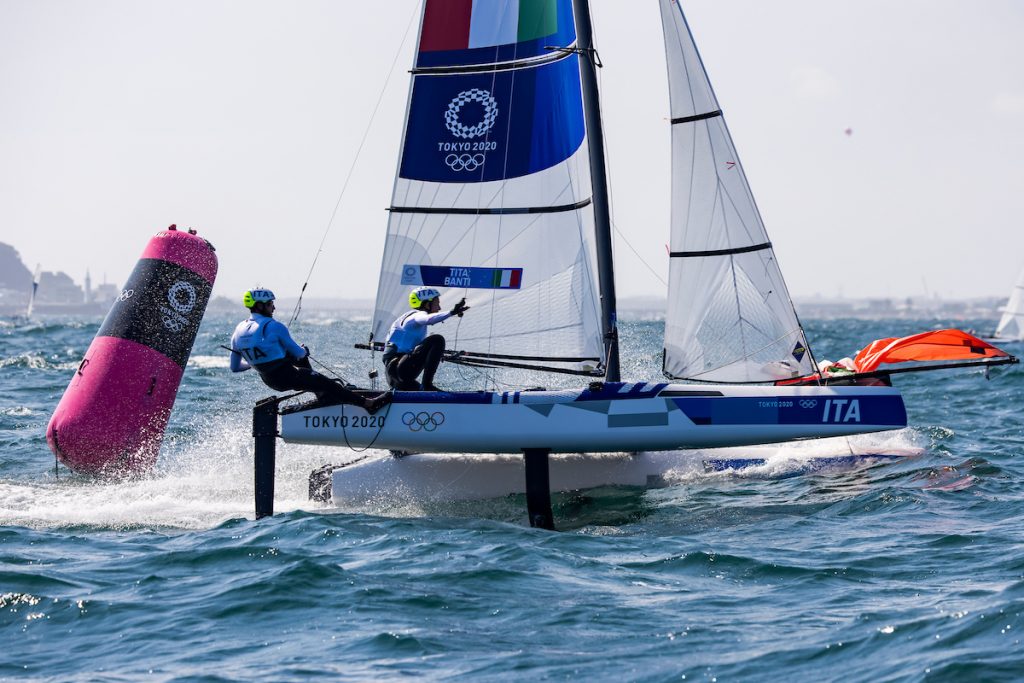 In the first full day of racing since the 2020 Worlds, it's clear that Ruggero Tita and Caterina Banti (ITA) have used their time wisely. They used a combination of steady upwind form with dominant downwind speed to win two races and place third in the middle race.
Their upwind speed and tactics are top-notch, with a beautiful skimming technique to keep drag low while heading upwind through the ever-present Enoshima waver. Their starting, wind reading, and fleet management were all very reasonable to start the Olympic regatta, with more hits than misses. However, on the downwind, they could not be matched, with an aggressive style, quick hoists, and a willingness to go right to the edge that moved them for a good day to a great day.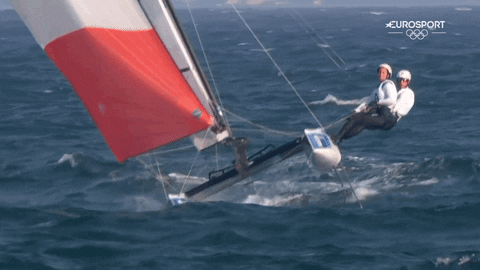 Enjoy Tita and Banti riding a tightrope on the downwind, even getting bucked down gracefully.
The Italian duo were one of the few teams not yet selected for Tokyo 2020 at the time Covid shut down the world. Many nations with competitive battles for Olympic selection, like Australia and Great Britain, had decided to select their athletes relatively early, the Italians, with two World Championship winning crews to select from had not made their choice. It was only in April 2021 that Tita and Banti got the nod, and they are so far rewarding their selectors.
The regatta is far from over with five teams scoring only top 10's on day one. The conditions in Enoshima are executed to have a bit of everything this week, so it will take a strong all around performance to win this games.
Paul Kohlhoff with Alica Stuhlemmer (GER) looked very strong in winning the second race.
Hats off to Santiago Lange with Cecilia Carranza Saroli (ARG) for scoring the second fewest points on the day. Catch a clip of Santi, now 59 years old, charging downwind while leading the first race. Certainly making the rest of 'us old guys' look bad;)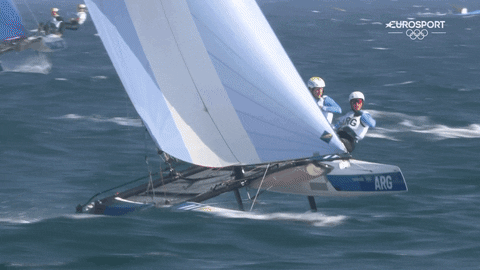 For the race schedule, results, photos, social updates and more head to the Nacra 17 Olympic page.

Marriage Material
In the Men's and Women's Skiff events, both halves of an engaged couple are sharing the limelight in their respective boats, Dylan Fletcher (GBR) taking the lead in the 49er and his fiancée Charlotte Dobson (GBR) maintaining top spot in the 49erFX.

Alongside the big waves across Sagami Bay, the sailors thrived in 14-17 knots of consistent south-westerly breeze that gave them a stern test.

Men's Skiff – 49er

Great Britain's Dylan Fletcher and Stu Bithell improved throughout the day, winning the last race and moving into the overall lead of the Men's Skiff – 49er fleet.

It was the Spanish who had the best day in the gnarly waves, with scores of 1,2,5 putting Diego Botin and Iago Marra (ESP) just a point behind the British.

In third place are the Australian brothers, Will and Sam Phillips, who are known for coming on strong in the strong breeze. On the same points in fourth place are Bart Lambriex and Pim Van Vugt (NED), with two 49er Olympic Champions in fifth and sixth overall. The 2016 gold medallists Pete Burling and Blair Tuke are fifth, a point ahead of 2008 gold medallist Jonas Warrer and his crew, 20 years his junior, Jakob Precht Jensen.

Stu Bithell was impressed by the steadiness of his helmsman in the big conditions, "Dylan was very good actually, not as twitchy as he can be! Nice smooth gybes, and really good in the last race. We grabbed the bull by the horns, won the starboard end and managed to dominate the race from there."

Women's Skiff – 49erFX

Charlotte Dobson and Saskia Tidey (GBR) may not have won a race in the big waves today, but 4,2,5 scores keeps the British in the lead by five points from the Dutch, who had the best results from the outing.

Double World Champions Annemiek Bekkering and Annette Duetz (NED) notched up two races wins and a sixth, looking very comfortable in the difficult conditions. Two points behind them are the reigning World Champions from Spain, Tamara Echegoyen and Paula Barcelo.

Bekkering admitted sailing the skiff in those waves is constant stress, "You can't push the boat to 100%, otherwise you capsize, so it's quite stressful concentrating so hard, but the stress is enjoyable too. It's part of what makes sailing these boats so fun."